Roy Lee Nelson is a guitarist, vocalist and songwriter currently residing in the Dallas/Ft Worth area. This multi-talented individual is quickly gaining popularity and garnering the respect of fellow musicians and audiences alike.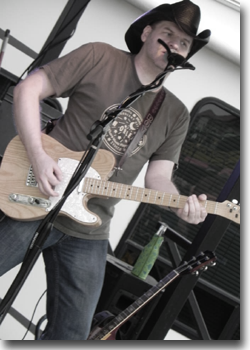 Having grown up on a mixture of Top-40, Rock, and Country radio since childhood, he is fluent in all of these popular styles. This has also allowed him to develop a keen ear for hooks - especially helpful when writing great, meaningful yet accessible songs.
"I played mostly hair-metal and Top-40 pop music for most of my early formative years, but Country held an interest for a long time. Eventually the bug was too hard to resist, and I finally felt ready to jump off into it. And I gotta say, it's the most challenging stuff I've ever attempted. It's great to have a really good reason to practice again!"
Roy Lee has accepted and met the challenge quite successfully. In the last few years of developing his Country chops, he has been able to play with quite a few bands - and is always seeking out more opportunities to hone those chops even further. If you need some good-ol', traditional chicken-pickin', he's got that covered. If you need something melodic and soulful, he can take care of that too. And thanks to the many years of rock playing, along with influences such as Brad & Vince (among many others), he can burn up the fretboard when it's time to let just a li'l lightnin' out of the bottle!
He is also a very competent vocalist, both for lead and harmony parts. His tenor voice covers a lot of ground - not just in terms of range, but in tonal quality as well. At some times as gritty as a Jack Ingram or Gary Allan, delivering a honkytonk feel so thick you can smell the cigarette smoke...at other times as smooth as a Keith Urban...and still others with all the power of a Ronnie Dunn.
Currently, you can find him with Roy Lee Nelson & The Big Ten-Four Band, serving up some southern Tele twang. He can also be seen portraying rock guitar icon Richie Sambora, with Blaze Of Glory - The Bon Jovi Experience, a band he's enjoyed playing with for 8 years.